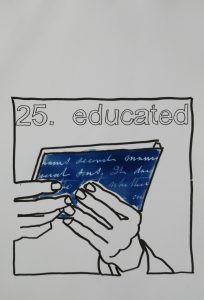 McAllen, TX – South Texas College's Library Art Gallery proudly presents "Carol Flueckiger" a 2-D exhibit of Cyanotype Prints by Artist, Carol Flueckiger.
Carol Flueckiger is an Associate Professor of Art at Texas Tech University in Lubbock.  She has developed a mixed media painting technique that uses the blistering West Texas sun to expose blueprints of historic handwriting and vintage graphics onto painted wood surfaces, paper and fabric.  She merges this cyanotype technique with feminist history, weather and geography.
STC's Library Art Gallery Program exhibits regional, national and international artwork, explores new visions and theories of creativity, and introduces innovative artistic expressions to the South Texas region.
For more information contact Gina Otvos at 956-872-3488, gotvos@southtexascollege.edu or visit https://library.southtexascollege.edu/libraryart.
Photo: Number 25, Educated, Carol Flueckiger, 18×12, cyanotype and sharpie on watercolor paper, 2017