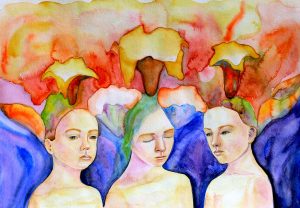 South Texas College presents the work of STC Alumni
McAllen, TX – South Texas College's Library Art Gallery proudly presents "STC Alumni Show," a 2-D exhibit of both drawings and paintings by former students, Priscilla Elizondo and Olga Alanis.
The exhibit opened Tuesday, January 23 and runs through April 23, 2018. There will be an artist lecture and reception on February 15 from 6 to 7 p.m. at the Technology Campus Library Art Gallery. The exhibit is located at 3700 W. Military Hwy. in McAllen. Admission is free and open to the public.
Priscilla Elizondo and Olga Alanis both attended South Texas College before moving to UTRGV to complete their Bachelor of Fine Arts degree. Alanis and Elizondo's work both lean towards 2-D figurative work with Elizondo primarily working in drawing and Alanis in painting. The technical skill, quality and stories of the former STC students' progress will be inspiring to current students and public.
STC's Library Art Gallery Program exhibits regional, national and international artwork, explores new visions and theories of creativity, and introduces innovative artistic expressions to the South Texas region.
For more information contact Gina Otvos at 956-872-3488, gotvos@southtexascollege.edu or visit https://library.southtexascollege.edu/libraryart.
Photo: Ecology of Mind, Olga Alanis, 2014.
ON DISPLAY: JAN. 23 – APRIL 23, 2018
ART TALK/RECEPTION: FEB. 15 6-7 PM TECHNOLOGY LIBRARY