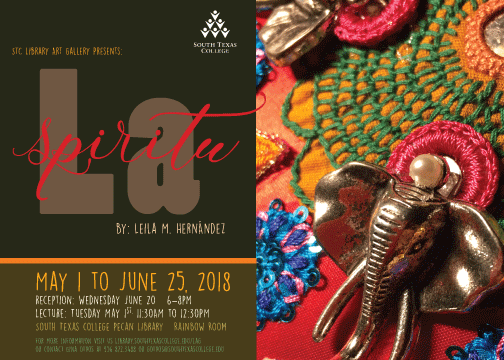 La Spiritu, an exhibition by Leila Hernandez, will be on view May 1 through June 25, 2018 in the Pecan Campus Library Rainbow Room. There will be a reception for this exhibition, as well as the Ceramic Showdown and Art x Culture, on June 20, from 6-8 pm at the Pecan Campus Library. Hernandez is a native of El Salvador and received her MFA from the University of Florida. Hernandez draws inspiration in nature and art using re-purposed mixed media that she finds in her visits to ropas, pulgas, thrift, craft and art stores.
"The term La Spritu is drawn from the Spanish word Espiritu which means spirit. In the Spanish language the word espiritu/spirit is male (El Espiritu) which becomes incompatible with the portrait of the feminine matriarch energy represented in my work," said Leila Hernandez. "I use elephants to represent many concepts and ideas like knowledge, strength, healing, memory and even luck."
About her process and inspiration, Hernandez continues, "The application of garments, largely used by women, applied on the mandalas are meant to create a social and political awareness on several issues such as enslavement, obedience, communion and spirituality. Through the use of clothes worn by women, an alliance is forged and hopefully an understanding is created among viewers—especially female viewers, that binds them through common experience, even if to some it is as simple as knowing how to weave or learning a "simple" craft."
For more information contact (956) 872-3488, gotvos@southtexascollege.edu or visit https://library.southtexascollege.edu/lag. This exhibit is free and open to the public.