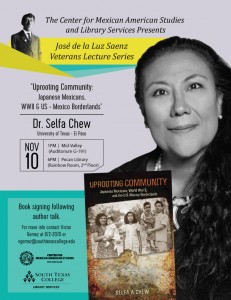 The Center for Mexican American Studies and Library Services presents "José de la Luz Saenz Veterans Lecture Series" an author talk followed by a book signing with Dr. Selfa Chew.  This event will take place, Thursday, November 10 at 1:00pm in G-191 Mid-Valley Auditorium G-191 & at 6:00 pm at the Pecan Campus Library Rainbow Room.
Selfa Chew holds a Bachelor's Degree in Communication Science from Universidad Nacional Autónoma de México. She received an MFA in Creative Writing, and her PhD in Borderlands History from The University of Texas at El Paso. She was Interim Director of the African American Studies Program in 2015-2016. Dr. Chew was an editor for Border Senses Literary Review and translator for Memorias del Silencio, a migrant workers publication. She coordinated the Mexican Contemporary Literature Journal and Conference from 1999 to 2012. She published Mudas las Garzas in 2007, released in English as Silent Herons by San Francisco, Berkely Press, in 2012.  Her play "Night Stalker: Mi hermano siamés" was included in the National Theatrical Exhibit (Mexico, 2013).  In 2015, the Universidad Autónoma de Cd. Juárez awarded her the Voces al Sol Publication Prize for her book Cinco Obras de Teatro. Currently, she is a Visiting Assistant Professor in the Department of History, University of Texas at El Paso. She is completing her second doctoral degree in the Sociocultural Foundations of Education Program at the same university.
Dr. Chew's research focuses on racial relations and the Asian and African diasporas. Her book, Uprooting Community: Japanese Mexicans, WWII and US-Mexico Borderlands (The University of Arizona Press, 2015) was finalist for the International Latino Book Award in September 2016. She currently teaches United States History, Afro-Mexican History, Contemporary Latin America, and African American History at the University of Texas at El Paso and New Mexico State University.
Dr. Chew presented "The Japanese Mexican Expulsion from the U.S./Mexico Borderlandsby special invitation from the Center for Advanced Holocaust Studies.  (Un)Silencing the Past: Narratives of Trauma in Comparative Perspective, United States Holocaust Memorial Museum Symposium, University of New Mexico, October 24-25, 2013. Among her academic publications are: "The Japanese Mexican Community During World War II: Mexicanidades de la Diáspora Asiática," Chicana/Latina Studies: The Journal of MALCS, 2015; "Recovering Afro-Mestiza Identities in a Borderland Classroom"in Intersections in the Latina and African Diasporas, ed. Marion Rohrleitner and Sarah Ryan. Rowman and Littlefield Publishers, December, 2012; and, "Re-Imagining Collectivities: The Mexican Japanese During World War II," National Association for Chicana and Chicano Studies Proceedings, San Jose State University Scholarworks, 2008.