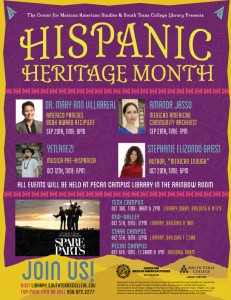 South Texas College's annual Hispanic Heritage Month festivities will get underway on this September with several campus-wide activities, including the "Pláticas Sol de Aztlan Lecture Series" that will feature several award-winning authors.
Hispanic Heritage Month is officially celebrated across the country from Sept. 15 to Oct. 15. The STC library events during the month-long celebration are free and open to the public.
The guest speakers are sponsored by STC's Library Services, Center for Mexican American Studies, the college's Division of Liberal Arts and Social Sciences, and the PUENTE Program.
We begin our festivities on Tuesday, September 20, 2016 at 6:00pm at the STC Pecan Campus Library Rainbow Room, with Dr. Mary Ann Villarreal.  Dr. Villarreal  grew up in Tivoli, Texas, a small town where Hwy 239 and Hwy 35 intersect in Refugio County. She is a graduate of Mount Holyoke College and earned her Ph.D. in History from Arizona State University. Her area of study is U.S. history with a specialty in oral history. She previously held faculty positions at the University of Colorado, Boulder in the Department of History and at the University of Utah as a joint appointment in History and Ethnic Studies. She is currently Assistant Vice President, Strategic Initiatives, at California State University Fullerton.  She has authored and co-authored journal articles related to Mexican American women's entrepreneurship, civil rights activism, and race/ethnic identity. Her recent manuscript, Listening to Rosita: The Business of Tejana (University of Oklahoma Press, October 2015) reveals how ethnic Mexican entrepreneurs developed a unique identity in striving for success in a society that demeaned and segregated them. In telling their story, this book adds a critical chapter long missing from the history of the West.  The event will be followed by a book sale and a book signing.
Monday, September 26, 2016, at the Pecan Campus Library Rainbow Room at 1:00 pm, Ms. Amanda Jasso will be visiting us, Amanda is the Mexican American and Latin@ Community Archivist at the Austin History Center, Austin Public Library. She actively seeks out archival materials through outreach efforts and programming while also giving presentations, conducting oral history interviews, coordinating programs and events, providing reference service to the public and acting as a local subject specialist in the history of Austin and Travis County's Mexican American communities. Born and raised in Brownsville, Texas, Amanda was compelled to learn about her father's family history in Mexico, as well as their journey to Texas and the rich history of the Rio Grande Valley. While she studied Borderland Theory and Chicana feminism, it quickly became her goal to work with communities who are barred from access to resources in many forms, thus pushing her in the direction of preservation, access, information literacy and community engagement.  Amanda holds an MLIS from the University of Washington and a BA in Communication from the University of Pennsylvania. Her research and advocacy includes sustainable practices for serving immigrant communities and undocumented persons within public library systems and building upon the powerful link between archives, memory and identity formation. Amanda is also a member of the Austin Public Library's Culture and Diversity Committee and currently serves as the Chair for the City of Austin Hispanic Network's Community Engagement Committee.
Wednesday, October 12, 2016, at the Pecan Campus Library Rainbow Room at 6:00 pm, we will have musical guests " YETLANEZI" with their "Musica Pre-Hispanica"
To conclude the lecture series, author Stephanie Elizondo Griest, will give a presentation at the Pecan Campus Library Rainbow Room on Oct. 20  at 6:00 pm. Her book Mexican Enough, won the PEN Southwest Nonfiction Book Award; and Best Women's Travel Writing 2010 won Gold for Best Travel Essays in the Independent Publisher Book Awards. The event will be followed by a book sale and a book signing.
In addition to the "Pláticas Sol de Aztlan Lecture Series," the South Texas College libraries will show the film, "Spare Parts" throughout the month October to celebrate Hispanic Heritage Month.
For more information about these events and STC's Hispanic Heritage Month Celebration, visit https://library.southtexascollege.edu/libraryevents or contact Angelica Maria Garcia at (956) 872-2277 or amgarcia@southtexascollege.edu.