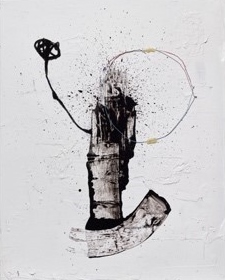 Houston artist David McGee exhibits at South Texas College
Talk by artist David McGee slated for Feb. 22
MCALLEN, TX– The South Texas College Library Art Gallery has curated an exhibit entitled, "David McGee: New Work" featuring the work of Houston artist David McGee that will be on display until February 25, 2018. The exhibit is located on the second floor of the STC Pecan Campus Library. The exhibition and lecture are part of the college's larger annual Black History Month celebration.
The Library Art Gallery invites students and the community to a special talk by David McGee on February 22 at the Pecan Library Rainbow Room at 1 p.m.
The talk will be followed by a reception from 5 – 7 PM in the Library Art Gallery. The Pecan Campus Library is located at 3201 W. Pecan Blvd., Bldg. F in McAllen, Texas. All events are free and open to the public.
"My work is an attempt to reset the irregularities between language and image, to reroute the labeling system thus refocusing the body politic to reassess the abstraction of word versus image or the abuse of language and the misdirection of image," said David McGee. "My paintings also heavily influenced by my love of literature and film. I seldom go back and forth from the style of abstract painting to that of the figure, but by all facts and vocabulary, everything is abstract. So the paintings adhere to no stylistic allegiance, but just the emotional weight of what is to be human."
David McGee is a Houston-based artist whose work explores identity and experience. This exhibition features McGee's large-scale, heavily textured abstract paintings he made during a one-year sabbatical on the Bolivar Peninsula, a remote area near Galveston, and his signature watercolor figurative drawings. McGee recently finished a twenty-year retrospective at the Houston Museum of African American Culture.
STC's Library Art Gallery exhibits regional, national and international artwork, explores new visions and theories of creativity, and introduces innovative artistic expressions to the South Texas region.
For more information, contact Gina Otvos at gotvos@southtexascollege.edu or (956) 872-3488. For a complete listing of events visit: https://library.southtexascollege.edu/LibraryArt
ON DISPLAY: JAN. 16 – FEB. 25, 2018
FEBRUARY 22, PECAN LIBRARY
ART TALK: 1PM
RECEPTION: 5-7PM