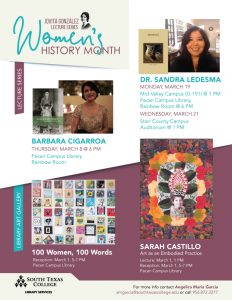 March is Nationally recognized as Women's History Month, South Texas College Libraries will be hosting several events to celebrate Women's History Month.  We begin with Ms. Barbara Cigarroa, Thursday, March 8, 2018 at 6:00 pm at the Pecan Campus Library Rainbow Room.  She will be speaking to us about her book "A Mexican Dream and Other Compositions"  presents a rare collection of interwoven essays chronicling the fascinating history of the Cigarroa family and their influence on the Texas-Mexico border landscape.
Barbara González Cigarroa brings to life stories of her ancestors and other family members, including: Rebecca Iriarte, who raised her five children during the Mexican Revolution of 1910; Judge Manuel J. Raymond, one of the last of the border patrones who expertly navigated contrasting cultures across border lines; Henry B. González, US Congressman and the first Mexican American elected to the Texas Senate during a time of blatant racial discrimination; Dr. Joaquin González Cigarroa Jr., a revered physician and education activist; Dr. Francisco Cigarroa, pediatric transplant surgeon and former chancellor of the University of Texas system; Barbara Flores Cigarroa, a mother of ten whose values and resolve inspired her children and many grandchildren to excel in the finest universities and beyond.  In presenting richly detailed vignettes with keen observation and grace, Cigarroa offers captivating and original insights not only into her family's remarkable story, but also into the beauty of the extraordinary traits and enduring spirit of the people of our Texas borderlands
We continue to celebrate Women's History Month, Dr. Sandra Ledesma will be presenting her book, "Bombolai" on Monday, March 19, 2018 at 1:00 pm at the Mid-Valley Campus Auditorium (G-191), then at 6:00 pm at the Pecan Campus Library Rainbow Room.  We conclude with at the Starr County Campus Auditorium, Wednesday, March 21, 2018 at 1:00 pm. Her book is a  collection of funny stories, that make you laugh, think and reflect. The stories are somewhat feminist, but with warm love with the many teachings from ancestors and semi-modern Mexican wit that strengthens wisdom and the desire to live life fearlessly with not too much or a lot on hand.
For more information, please contact, Angelica Maria Garcia amgarcia@southtexascollege.edu or at 956-872-2277