Collection at 3201 is a project to promote accessibility and visibility of South Texas College's Permanent Art Collection to students, faculty, staff and the community. We invite faculty and staff to pick an artwork from the collection and talk about how it has influenced the way they see the world. We hope this intersection of art and ideas inspires learning about art and culture in the Rio Grande Valley.
Sylvia Benitez, Guadalupe, Guadalupe, Oil on canvas, 84 x 72 inch.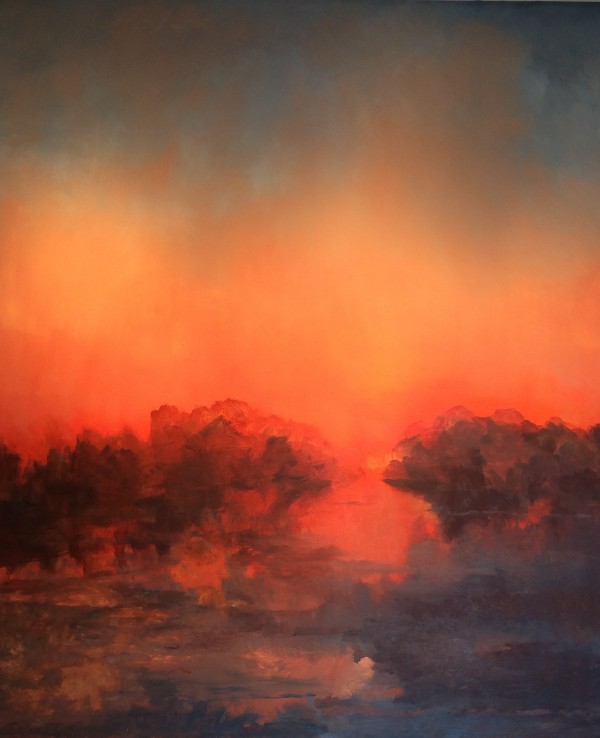 Contributed by Jessie Rodriguez, STC Library Art Gallery
When I look at Guadalupe, Guadalupe by Sylvia Benitez I am reminded of a Sigmund Freud quote: "the mind is like an iceberg, it floats with one-seventh of its bulk above water." The analogy works here. Like the tip of the iceberg, what can clearly be seen in Benitez's Guadalupe, Guadalupe is a view of a natural landscape depicting an inky orange sunrise at the Guadalupe River near her home in Seguin, Texas. Though the work is skillfully painted, I'm most drawn to the part of the painting that draws the subconscious mind. The emotions and feelings lie underneath the surface like the base of the iceberg that stretches far below the ocean. Beyond what we see, landscape painting, the viewer is transported into pockets of distant shadows and allowed to discover and walk into the depths of the painting or the corners of the subconscious mind. The viewer is drawn in, transported, submerged into the memory of the previous dawns and the context of those experiences.
Benitez's large scale painting alludes to the Romantic era of the 1800s and explores the vastness of the natural world in her landscape paintings. By placing the horizon line lower in the painting, she creates a dreamlike atmosphere of a bright orange morning where we can catch a glimpse into a moment in Benitez's vision. The dreamlike environment that she paints draws the viewer into this otherworldly realm. What fascinates me about Guadalupe, Guadalupe is how sublime the nature is even with the gestural brushstroke landscape. It becomes a vehicle for expressing a range of psychological and emotional states by the artist. Although I could never know the emotions and feelings going through an artist's mind, I can only interpret what it means to me and connect in a more spiritual way or remember a feeling that I only experienced at a certain time and place.
Sylvia Benitez trained as an abstract painter in the 1970s at the University of Maryland. She moved to NYC in 1980 and lived there for twenty years until eventually relocating to Seguin, Texas. Her painting was accepted into South Texas College's Permanent Art Collection in 2016.